PGL is collaborating with the organization, La Base, by providing funds for its Revolving Solidarity Fund. The vision of La Base is to create a just, democratic, and inclusive economy that promotes worker cooperatives that share decision making, profits, responsibility, and property of the business.  Through its Revolving Solidarity Fund it provides non-extractive credit and long-term business advising to cooperatives or solidarity groups with an innovative finance model that empowers workers to manage and be owners of their own businesses.  La Base's values of self-determination and empowerment align perfectly with PGL's goal of empowering Nicaraguan communities to be self-sufficient and thrive.
Current PGL Projects
Abonatura Cooperative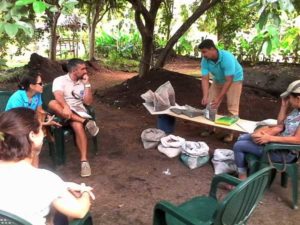 With support from PGL La Base will be able to grow its Revolving Solidarity Fund to offer its programming to Abonatura Cooperative in Quezalguaque (11 miles from Leon city along the Telica River). Abonatura is an organic fertilizer that started as a college thesis project in 2012 and is now a cooperative of seven partners. The cooperative sources all its raw materials (carbon, manure, etc.) locally, which has an added economic benefit on the community.  Its product is organic and it has a tremendous opportunity to enter the organic market. This project will help Abonatura obtain an official organic certification with the goal of increasing sales, income, and employment for the cooperative.
Las Penitas Shrimp Cooperative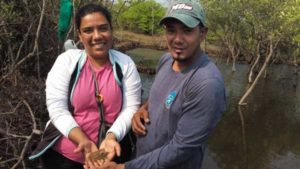 The community of Las Peñitas in León is home to beautiful mangroves but also several large multinational shrimping corporations. A group of workers at these corporations organized themselves into the democratic owners and operators of the cooperative El Rosario.  As owners of their own aquaculture operation the members have seen an increase in their incomes.  Support from PGL has allowed La Base to offer El Rosario Revolving Solidarity Funds to deepen its natural shrimp pool to increase the production that is carried out in an environmentally friendly and sustainable manner. La Base will also provide business advising to the cooperative to grow their local market share rather than selling on the low-priced international market. This project with El Rosario is an excellent example of PGL's desire to maintain and build community wealth while minimizing negative environmental impacts.