In the late 1980s, a group of women merchants at the Estatción market in León began observing a growing number of homeless adolescent youth hanging around the market.  Many were huffing glue to get high and others were stealing food to eat.  Several of the women reached out with compassion to the troubled youth and organized a shelter in an abandoned building near the market.  These women became known as "Las Tías" (The Aunties) and raised funds to provide meals and teach the youth to read and write.  More recently Las Tías has focused its programming on holistic support to younger children from high-risk families with the intent of never having children become homeless in the first place. Today Las Tias Youth Center serves more than 80 youth in its adolescent and child programs. Las Tías offers not only a daily meal and academic enrichment but it now also offers parenting classes, psychological services, and extracurricular activities.  Its model looks to improve the home environment as well as the mental, physical, and educational well-being of youth.
Current PGL Projects
Extracurricular Activities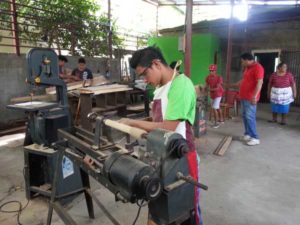 PGL provides support to Las Tías to enhance the extracurricular activities including art, dance, tailoring, leather work, beautician/stylist skills, and carpentry. Access to these activities provides youth not only with important diversions that reduce incidents of delinquency but also provides vocational skills that they can use for future employment.
Psychologist and Social Worker
PGL values Las Tías' early stage, holistic strategy and as a result, since 2010 has been providing funding to support the work of the Las Tías Psychologist and Social Worker.  These professionals provide one-on-one counseling, in-school support, home visits, parenting workshops, and mentoring for high-risk families.