Taller Artistico Xuchialt
Serendipity! That's how it all began. In 1994 Nils Anderson, who traveled to León to visit his friend Steve Ramos, PGL's in-country coordinator, began sharing his love of the arts with young people in the Sutiaba neighborhood where PGL is located. These informal lessons and classes were the beginning of what would become the Xuchialt Art School and ultimately the Xuchialt Arts Foundation. Xuchialt offers the young (and young at heart) classes in drawing, painting, folkloric dance, and music. The school is officially accredited by the Nicaraguan Ministry of Culture, and offers the most affordable arts classes in León. All of the teachers and board members are either former students or parents of the organization.
Xuchialt is an important part of PGL's cultural exchange, with a visit to the school routinely included in the itinerary of delegations to León. Also Xuchialt artists have brought their talents to the U.S. and Gettysburg, including spotlight performances and artwork at the Nicaraguan Embassy in Washington, DC. Thanks to the generous support of the students of at Lincoln Elementary School in Gettysburg and their teacher, Gina Robertson, PGL is also supporting teacher trainings for the teacher-artists at Xuchialt.
Current PGL Projects
Organizational Development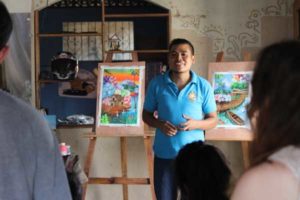 Recently PGL provided Xuchialt with guidance and technical assistance to help the organization establish itself as a legal nonprofit in Nicaragua.  PGL worked with the members and artists from the strategic planning phase and establishment of a new board of directors, through the legal process, to setting up a chart of accounts and financial system.  PGL continues to support the organization's development with ongoing technical assistance and administrative support.
Scholarships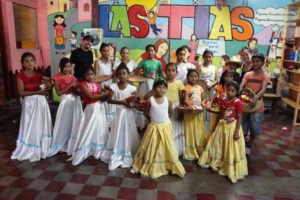 PGL believes that art not only enriches our lives but can also be an effective tool to build self-esteem and cultural pride.  Nicaragua has a rich tradition of art and cultural offerings but unfortunately many Nicaraguan youth cannot afford to develop their talents to participate in their own cultural heritage. In order to address this need PGL offers scholarships to low-income youth to participate in Xuchialt programs.