Would you like to work as a volunteer in Leon and support Nicaragua needy people in Nicaragua? Do you have good Spanish and a clear technical skills that will be of use to one of our partner organizations? If so apply to the new PGL Professional Fellows scheme. (LINK)
PGL is opening a new initiative whereby individuals with a professional background can apply for support as a fellow to bring his or her expertise to an organization in Nicaragua. PGL will arrange accommodation for you with a local family and provide you with a small stipend, sufficient to pay your rent, breakfast and dinner.
The fellow would bring a particular skill to the entity with which he or she would be working, and must have a sufficient command of Spanish to work independently with the Nicaraguans. The opportunity is an effective way in which someone in Pennsylvania—or elsewhere related to PGL—can share his or her talents with those in Nicaragua who can benefit from the professional development. It is open to people with career experience.
The PF scheme is not appropriate for students. Students can apply for the PGL Student Summer Fellows Scheme, open every June/July in conjunction with Gettysburg College.
Any Professional Fellow applicant needs to be able to work closely with our Nicaraguan partners
At present PGL and our partners have opportunities for the following positions, however if you have a particular skill you can offer, and can be available for between 4 months and a year (depending on the position) then do read the details and send in an initial application.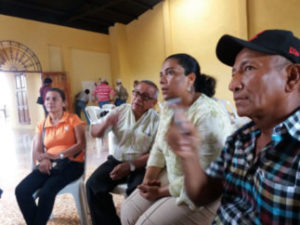 Examples of PGL Professional Fellows:
A vet to support improved animal health in Talolinga
A carpenter and small business adviser for our partner 'Las Tias'
A Teacher of the Deaf or audiologist with a knowledge of American Sign Language
A Computer technician to fix desktops and hardware (shorter-term placement)
A fundraiser to help project design and write proposals for a variety of partners
Click here for details of the scheme and how to apply. If you think your skills might be appropriate send the Country Director a short letter to begin to explore possibilities.