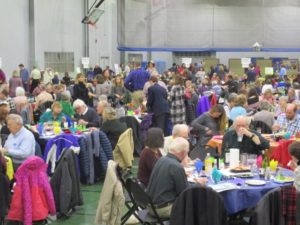 Over $50,000 were raised last Saturday evening, January 20, at Project Gettysburg/León's fund-raising auction that was held at the Gettysburg College Hauser Field House and attracted close to 600 people.
"This is the highest amount raised since 2014, which makes it the second highest total ever," explained PGL treasurer, Jeff Rioux. Gretchen Natter, PGL Auction Chair, who had announced to the crowd at the beginning of the event that the goal was $50,000, expressed afterwards her great joy at the result.
The income was from ticket sales and winning bids on silent and live auction items. This income is the major source of funding for the sister city work carried out by PGL in the district of León, Nicaragua. A special presence at the auction were the In-Country Coordinator, Steve Lewis, and program associate and wife, Kathy Owston, who had flown from Nicaragua the day before. Steve made a brief presentation about PGL's current work.  
A major reason for the financial success of the annual event is the generosity of Gettysburg College, which provides the venue along with the services of the maintenance department and sound services.
The festive evening began with music by the band, "The Woebegoners," while people milled around, examining the silent auction items. Then the attendees were offered a buffet chili dinner. Then at the microphone for the live auction was Jimmy Peters of the Peters family auctioneers, who have been taking the stage for PGL for 20 years.
While some of the auction items came from distant donors, from as far away as Orcas Island, near Seattle, Washington, many were from local individuals and businesses, such as the Lark, Sweeets, The Gettysburg Hotel, A&A, Noltz's Mulch, Scott & Co. Fine Jewelers and Garrick Jewelers.
Many donations were very special because of their monetary value, such as four premium box seats at a Baltimore Orioles game at Camden Yards, although two items that stole the hearts of many children were two large, adorable stuffed animals—a sloth and a penguin.